When I was still residing in the Philippines, I promised myself that I would visit the Grand Canyon if I were ever given the chance to travel to the United States. That time, I only knew of the Grand Canyon. It never came to mind that the park is only one of the 58 majestic national parks United States has to offer.  
In a nutshell, my Grand Circle Tour itinerary comprises of:
Zion National Park;
Bryce Canyon National Park;
Capitol Reef National Park;
Arches National Park;
Canyonlands National Park;
Lower Antelope Canyon;
Horseshoe Bend;
Lake Powell; and
Grand Canyon National Park.
Planning the trip took a while. From booking the flight to mapping out the places I would like to see and finally fitting everything in a span of 8 days, it did take time. Fortunately, a great number of resources are already easily accessible online. Some really helpful blogs and websites I have visited are:
I've been flying Allegiant Air for all my domestic travels. If you are like me who does not mind flying minus all other value-added services and amenities and is a very light packer/traveller, then booking a flight through a low cost carrier like Allegiant Air is the more cost-effective way to go. I decided to fly SDF-LAS roundtrip, get a rental car and drive around Nevada, Utah, Arizona, and then back to Nevada.
For $350, I was able to book a flight and car rental package offered by the airline company. I was ecstatic. This was my first time renting a car, and I did not know those insurance charges and added tax fees could really add up to a large amount of cash. One lesson learned is to always read the fine print and to check your insurance plan. Later during the trip I realised I could have saved more had I not paid all those unnecessary fees. Still, it gave me peace of mind, knowing that I will be driving for more than 1,000 miles and the rental car is insured and covered during the whole trip, especially during emergencies and any other unforeseen events. What's a couple hundred more bucks to spend if it's going to give you additional security, right?
national park annual pass.
If you plan to follow my itinerary, I suggest purchasing an annual pass provided by the National Park Service. For $80, it gives the cardholder unlimited access to the 58 national parks in one year. One pass is needed per vehicle.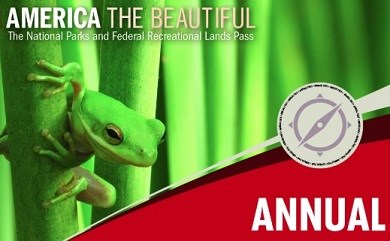 day 1: las vegas.
Day 1 was spent mostly on travelling and preparing for the 7-day road trip. The plane landed around 4:00 PM. After getting the car from Enterprise, I checked-in the hotel, and took a rest, knowing tomorrow would be a long and exciting journey.
day 2: zion&bryce.
Walking through Zion and Bryce Canyon felt like living in a postcard. Everything is just picture perfect.
The great thing about these parks is its accessibility. The authorities understand that not everyone who would like to see these beautiful creations are athletic nor fit enough to hike. I appreciated the availability of shuttle buses regularly going around the vicinity to load and unload tourists to the various viewpoints and trails in the area. Also, because of the various stops with equally amazing views of the national parks, they were able to distribute the tourists effectively, developing a sustainable way of managing tourism in the area, while taking into consideration the parks' carrying capacity.
Because of the limited time, I did not stay long at the Zion National Park. Together with other tourists, I ended up taking the Weeping Rock Trail (mainly because of the interesting name), trekked for about 30 minutes, ate some snacks, and then went back down to the shuttle stop.
About an hour and a half drive away is Bryce Canyon, a national park known for its hoodoos (irregular columns of rocks). Similar to Zion National Park, viewpoints are easily accessible through shuttles that operate on a regular basis. Below are photos of the iconic Bryce Amphitheatre.
As a repercussion for my poor planning skills, it took more than two hours to reach the AirBNB place I booked online, much to my dismay. Don't get me wrong, I would still recommend the place! The host went above and beyond with her hospitality, and the place was cozy and clean. I just failed to factor in the proximity of the place from the national park.
day 3: capitol reef.
The most scenic portion of the Waterpocket Fold, found near the Fremont River, is known as Capitol Reef: capitol for the white domes of Navajo Sandstone that resemble capitol building domes, and reef for the rocky cliffs which are a barrier to travel, like a coral reef.

National Park Service, NPS.gov
Capitol Reef National Park is nothing short of breathtaking. I chose to hike the 2.5-mile Fremont River Trail. On the way to the trail, we found an abundance of yellow peach trees, a lovely addition to this travel experience.
Fearing heavy traffic and possible detours, we thought it was better to leave early. We left the national park a little after noon, and took a scenic drive to Moab, where I allotted two nights of stay. At about 3 in the afternoon, we are now in Moab. We took the rest of the day exploring the place.
day 4: arches&canyonlands.
Arches National Park felt like a combination of all parks I have seen so far. The whole morning was spent exploring the different trails and picturesque views the place has to offer. Because my group chose to see more parts of the park, we were unable to hike the 3.2-mile trail to the Delicate Arch, the most popular arch in the world.
Canyonlands National Park is less than an hour drive from Arches National Park. Below is a photo taken at the southernmost point of the Island in the Sky scenic drive, the most accessible part of the national park.
day 5: lower antelope&horseshoe bend.
Depending on the traffic, Lower Antelope Canyon in Page, Arizona is a 3-4 hour drive from Moab, UT. Because of the popularity of the destination, it is advised that this tour should be booked in advance. In addition, because of the risk of flash floods, the authorities do not allow travellers to explore the canyon by themselves. Our tour guide shared a story of a group of 12 hikers trapped in the canyon back in 1997.
On a lighter note, the world's most expensive picture was taken at the Lower Antelope Canyon. Tourists around the world travel to see the canyon because of its photogenic beauty brought by its smooth limestone walls combined with rays of sunlight and contours and shadows.
Hiking the Horseshoe Bend at 2 in the afternoon is probably the worst decision I've made to this day. At 100 degrees Fahrenheit, on a very hot summer day, walking to and from the tourist spot was dehydrating and exhausting.
Horseshoe Bend prides itself for its impressive overlooking view of the horseshoe-shaped meander of the Colorado River in Page, Arizona.
day 6: lake powell&grand canyon.
The night before, my group made a last minute decision to take a break from hiking and experience paddle boarding at Lake Powell. Lake Powell Paddleboards were nice enough to accept us despite the extremely short notice. Exploring Lake Powell through paddle boarding, the experience was definitely one for the books.
Around 12:00 pm, I left Page, preparing to travel to the last leg of the trip, the Grand Canyon National Park. I had a lot of free time. Like some of the travellers, I decided to rest and explore the Grand Canyon just before the sun sets. Below are photos taken when the sun was setting.
day 7: las vegas.
Day 7 was mostly spent driving from Arizona to Nevada, and exploring the Sin City.
itinerary.
estimated expenses.
For the purpose of this blog, I have attached a table of estimated expenses if two people are to do this tour:
quick travel tips.
Plan your trip well.
Get a National Park Pass.
Make a road trip playlist.
Purchase snacks and drinks for when you're hungry/thirsty on the road!
Bring a powerbank.
Click here to see more of my photos from the trip!